Chienne Mary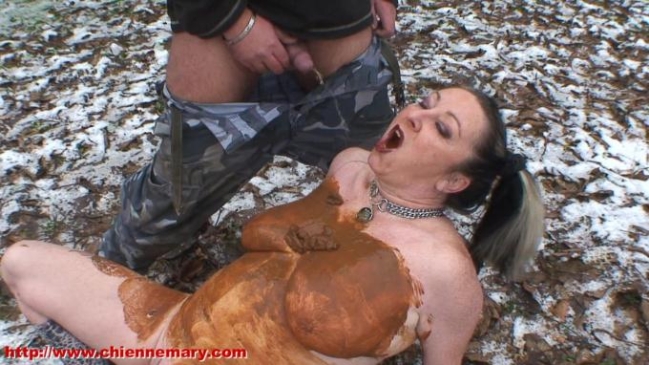 Interview
This interview was originally published on a defunct website scalled ScatOasis.
Hi Mary,
Thanks for agreeing to answer our questions. Here goes:
How did you discover you liked scat-play? And how did you get into scat porn?
Did you make amateur home movies before commercial scat movies?
A few years ago, a fan did a big shit between my tits and I loved pressing it between my tits. I had a website at that stage but it was mostly SM and watersports. I crossed the barrier by putting those photos on my site and they were very popular! Before I had my site, my husband and I had some fun making some movies, but we kept them for ourselves.
Did you always like anal sex or did that develop at the same time as your scat fetish?

I've always liked sex and scat was a big bonus, as far as I was concerned.
Has your attraction to scat changed as you went from private to public to world-famous scat-star?
I've done lots of things sexually, I'm known for trying anything, so no one was surprised when I started playing with shit - at least nobody told me they were surprised!
You have a husband who you enjoy scat-sex with.
How important is scat play in your relationship?

With my husband, Max Fister, we have scat-sex whenever we want, but not everyday.
You have to appreciate the good things and make sure that our sex-life doesn't become routine.
Do any of your real friends or family know about your scat fetish or do you have a hidden scat life known only to scat fans around the world?
My close friends know that I like scat-games, but they don't do it themselves.
They appreciate me for who I am.
People like that are rare, because lots of people are still very negative about scat, unfortunately.
Have you ever been recognised in public as a scat superstar?
Yes!! It was very nice for meÂ… but I know how to stay modest!
Of all your films, which is your favourite?
Which film would you recommend to someone who has never seen any of your films?
I love all my films obviously, but in scat, I have three favourite films, "esclave scato", "plaisir scato",
and my famous "gang bang scato".
I am currently making other scat films.
Does scat porn pay well (sorry! -you don't have to go into detail)?
Does it pay more than mainstream porn?
No comment...but I would add that I meet fans for free.

How often do you film your movies?
We release films whenever we think they are really good.
We're more interested in quality than quantity.

Do you know what non-scat porn stars think about scat porn and scat stars?
I don't know any porn "stars" (the word "stars" makes me laugh - it's just fucking and I don't take myself that seriously, I'm not inaccessible).
But I suppose that mainstream "stars" think I'm a pervert, sickÂ…

Are you friends with any other scat stars or do you meet them socially?
Do you ever chat with other scat stars and exchange information or gossip?
I've never met any other "scat stars" unfortunately but I would like to meet Veronica Moser.

Do you ever view other scat websites or forums?
If so, do you have any favourites and do you view them for personal pleasure or to check out the competition?
Yes, Veronica Moser and Lisa's sites, to me they are the most natural in what they do and they do real scat, like me, not chocolate or some other « substance ».
I'd like to play with them and maybe do a photo series or a film!
If they read this interview, contact me !!

Have you ever worked with any other famous scat stars?
No, see above.

You have amateurs in your movies. How do you find them?
My fans write to me by email with photos and phone me and if it feels right we meet,
but often they live very far away: New York, Japan, Switzerland, Germany, Poland etc.
I would like if there were girls who were as hardcore as me who would contact me,
but they don't, either through fear or shyness.
They should contact me because I'm very cool and natural!!!

Are you going to continue making scat movies?
As long as I get pleasure out of it and the desire is there, YES!!!!!!!!!!
I'm going to continue enjoying myself playing the most extreme games!!

Do you have private meetings with fans? And do you give and receive?
We do meet with fans (they get to live their fantasies) but only about 1 in 10 guys actually turns up at our meeting. We have lots of fun together without any cameras or photos, which is a shame because often it's very good and I think that my fans would have liked to have seen it, so now I give preference to those fans who agree to be filmed.
And I repeat that I meet them for free!

What turns you on most about scat play?
Is it the humiliation, the sluttishness, the dirtyness, the taboo nature of the act, etc?
I love being under my partner and seeing a big hard shit, or an enormous shit, coming out of his anus and taking it all in my mouth, chewing on it and smearing it all over my body, I love to dirty myself with his shit and for me it's not taboo.

Do you think that you have a scat fetish or is scat just a kinky element of your sex life?
I am very fetishistic about leather, latex, vinyl, gothic clothes, high heels, corsets
(I have a very impressive collection).Scat is something different, it's a big plus sexually,
I feel good when I play really dirty sex-games.

Is there any one activity in particular during shit-play that is always guaranteed to turn you on?
During a scat session, what I particularly adore is for my partner who has just shit on me to smear the shit all over me, to put it on his cock and make me suck it while treating me like a dirty slut, I like him to be masterful without being brutal!!

Have you ever had any negative health effects from scat-play?
Do you have any tips or techniques for avoiding illness from scat?
One time a fan did a really tiny shit, it's difficult to have much fun in that case!!!

Do you have any personal rituals or preparation that you use before scat-play to prevent illness or to make scat-play more enjoyable?
I try to choose my fans, I like them to be clean at the beginning; just because I play with shit doesn't mean I'm dirty in my everyday life!! I like them to been entirely shaved.
I don't have any rituals other than advising them to eat lots of vegetables and to avoid alcohol for a few days before our meeting, that way the smell of their shit is really natural and it tastes delicious!! I never swallow other people's shit, just mine and Max's,
because of the health risks - how can I know how healthy all my partners are?
So, when playing, you still have to be prudent, even while enjoying yourself.

Do you arrange your own scenarios for your films?
Would you enjoy producing scat films for others?
In general, Max likes to set up a little scenario to start off the film, after that he leaves it to our imagination; it's the best way to make sure that the film looks natural and above all amateur.

Do you prefer filming outside in the open air or inside?
I love being filmed outside where we can be interrupted by passers-by,
and maybe have them join in - that has happened to us in the past.

How do you clean up after playing with shit?
Do you have any tips to get rid of the smell from your skin?
After a scat session often Max or a fan will piss on me (which I love) and then I have a really hot shower and just use some shower gel. Sometimes the smell of shit stays on the skin, so I have another shower a few hours later. The smell doesn't bother me, but I respect the fact that it might bother others - I'm not going to impose anything on anyone. But the smell of shit is very hard to get out of hair, I've had that experience!!!

How many times per week do you have scat-sex?
To be honest, sometimes 2 to 3 times, sometimes once, it depends on my desires with Max and the number of fans who can come to visit me, after I have chosen them, of course.

You have played with dogshit in the past.
Can you tell us about this - what made you want to do it? Did you enjoy it?
Would you do it again? And what did it taste like(!)?
Yes, I wanted to try dogshit, they're really beautiful shits, believe me!!!
But the taste is very bitter, my dogs eat croquettes, maybe that is the reason.
I was very excited doing it because it was new for me and I love new experiences and,
yes, I would certainly do it again!!

What's the most kinky experience you've ever had with scat-sex?
A fan did an enormous shit in my mouth, so big I was nearly choking on it, it wouldn't stop coming out and I thought "I'm going to be able to smear this on my whole body and then get fucked!" But I never put shit in my cunt and I never get my cunt fisted by a hand covered in shit or with a dildo covered in shit - that's the easiest way to get an infection. I'm certainly very dirty and hardcore and proud of it, but I'm still careful about my health!

Have you ever played with tampons or done any menstruation play?
Of course I've tried menstrual games, I really enjoy sucking on my tampon, then I dip it in my piss and suck it really hard!!! I find that really hardcore and extreme, I'm in my element, I am really a filthy pig, a dirty slut!!

Is there anything that you haven't done sexually (scat and non-scat) that you would like to do?
Yes, nothing to do with scat but since you ask me about non-scat sex, I would love to suck a pony, a horse, to be with some pigs in a sty and get fucked like a pig!!
But nobody seems to be able to offer me that seriously in France!!!

Which is your favourite type of shit - firm, soft, diarrhoea etc?
I prefer my shit to be really hard and enormous!! Diarrhoea doesn't excite me at all!!!

Have you ever played with vomit in your films (sorry, haven't seen them all!)
or in real life?
If so, how did you get into it? If not, is it something you would ever consider?
Once Max vomited in my mouth, coming from him I appreciated it.
I don't know if I would like it coming from another person, maybe if the feeling was right between us. I'm ready to do lots of things when they are done with intelligence, confidence and mutual feeling.

Do you ever get tired or bored by scat-sex? Or does it ever turn you off?
When I want to get off, I never get tired, I go to my limits!!!

How do you feel about sex without scat?
Apart from scat, what turns you on the most sexually?
I make love like any other woman and I get an enormous amount of pleasure from sex even without scat. I love feeling submissive in sex games without gratuitous violence, being tied up, blindfolded while someone masturbates my cunt and my clitoris - that makes me explode with pleasure!!!

Do you prefer men or women? Or both(!)?
I prefer men, they're more masterful, but for a woman to please me, she has to be as nasty as me. She doesn't necessarily have to be into scat, but at least pissing, fisting etc

You are obviously very submissive. Do you also enjoy being dominant sometimes?
I am submissive when I play, not 24 hours a day, I am a normal woman in my daily life,
with all the usual worries and pleasures that everyone has.
But I have to say that I love fisting and pissing and shitting on other men and women,
and giving them milk enemas, without pretending that I am a dominatrix!!!

You normally have very short hair (or a shaved head sometimes).
Why do you prefer short hair? Would you ever consider growing your hair long?
I like having short hair, it allows me to change its colour often, but I used to have long curly (I'm naturally curly!!) hair down to my waist.

Have you ever worked with trans-sexuals?
Do they turn you on? And why aren't there more t-girls working in scat films?
I met Diana, a transsexual, and she's now a friend of mine.
What really excited me was seeing her dressed as a woman and being able to caress her breasts before sucking her cock!!!

What are you interests outside scat? Art, food, cinema, books, travelling etc?
I love going for walks in the forest, the sea, cooking (I'm a very good cook and I love it), reading biographies or true stories, like those of Pierre Bellemare.
And I love riding my motorbike (we have a Harley Davidson)

That's all. Thank you very much!!
Thanks to everyone who reads this interview.
It gave me the chance to say what I feel and I've tried to be honest in my answers,
which is very important for me.
Big sloppy kisses to everyone,

Chienne Mary
Videos with Chienne Mary