Ingrid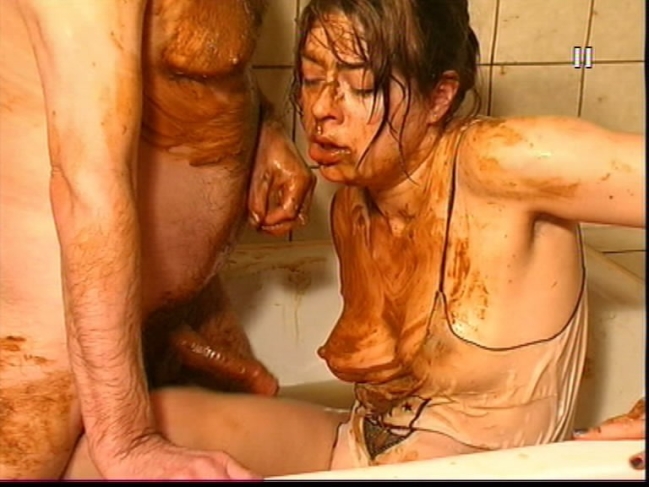 Interview
This interview was originally published on a defunct website scalled ScatOasis.

Hi Ingrid,
Thanks for agreeing to answer our questions. Here goes:
How did you discover you liked scat-play? And how did you get into scat porn?
Did you make amateur home movies before commercial scat movies?
My first experience with scat-play was with my friend (now we are married) about 10 years ago. He showed me how to have fun with shit. First I was a little bit reserved but then I became fascinated about it and would try it myself.
With time it would be more and more…
I haven`t done any movie before I played in my first commercial scat movie from "Grenzbereich - Scheiße im Schuh".
Alois (one of the producers) had got a private advert in a magazine - he was searching for a couple to do piss and scat. We wrote to him and then he asked us if we would like to play in a scat movie.

Has your attraction to scat changed as you went from private to public to world-famous scat-star?
No, nothing has changed.
Except now I like shit-playing more than former times, because of more experience.

Do you have a relationship with a boyfriend or girlfriend outside scat films and what part does scat play in your relationship?
See above

Do any of your real friends or family know about your scat fetish or do you have a hidden scat life known only to scat fans around the world?
I never talked about this fetish with my friends and family.
But I have the feeling that some know about it.

Have you ever been recognised in public as a scat superstar?
No, I live a normal life.
Till now nobody is saying to me in public "Oh, you are Ingrid, the scat-girl".

Of all your films, which is your favourite?
Which film would you recommend to someone who has never seen any of your films?
I have no favourite. My most exciting experience was the gang-bang movie.

Have you ever made any non-scat porn films?
Or would you like to make non-scat porn films?
Or would you like to act in mainstream (non-porn) films?
No, I have not made any non-scat porn movie.
It is not because I don`t like normal porn.
But piss and shit gives me the biggest kick.

Does scat porn pay well (sorry! -you don't have to go into detail)?
Does it pay more than mainstream porn?
The pay is ok, but you don`t get rich.

How often do you film your movies?
I have a member-area on my website. So, I do every month short clips.

Do you know what non-scat porn stars think about scat porn and scat stars?
I do not have any contact to non-scat porn stars.
But why should they think bad about us?
I think, people who do this "work" are very open and permissive.

Are you friends with any other scat stars or do you meet them socially?
Do you ever chat with other scat stars and exchange information or gossip?
Sometimes I have contact to Chris-extreme (she lives also in South Germany).
It is funny to talk about the things around scat etc…

Do you ever view scat websites or forums like this one?
Yes, sometimes I look at other scat websites and scat-forums.
Of course I`m interested to see that, what the people think and like to see.

Who is your favourite scat star that you have worked with?
I have no favourite.
All girls I worked with were very nice and we had very much fun together.

Is there any scat star who you haven't worked with, but would really like to?
I would like to know Pretty Lisa.

You have amateurs in your movies. How do you find them?
Some are sending me an e-mail and asking to play in the movie with me.

Are you going to continue making scat movies?
Yes, I will do more scat-movies.

Do you have private meetings with fans? And do you give and receive?
Yes, sometimes I have a private meeting with a person, who likes piss and scat too.

You participated in a scat gangbang organised by Greg Dean last year in England. Can you tell us about that, how many guys were there, what you did etc?
Are you going to do another one?
You mean the gang-bang in London?
It was my first experience with so many men. They were about 14 men.
The party was in the garden and all the men are standing around me.
Most of them are pissing and shitting on me - I`m sucking so many cocks….
it was really fantastic!!!

Have you ever had any negative health effects from scat-play?
Do you have any tips or techniques for avoiding illness from scat?
One time I had an inflammation in my eye from the shit.
When someone has a very soft shit (diarrhea), I don`t take it into my mouth.
But you have always a little risk, when you do scat.
But the whole life is a risk, isn`t it?

Do you have any personal rituals or preparation that you use before scat-play to prevent illness or to make scat-play more enjoyable?
I look to see that I have good food before doing scat.
Don`t drink alcohol, eat no mushrooms (because they come out like they come in).

How do you clean up after playing with shit?
Do you have any tips to get rid of the smell from your skin?
I take a good smelling shower-gel.

How many times per week do you have scat-sex?
At least one time.

What's the most kinky experience you've ever had with scat-sex?
It was the gang-bang in London.

Do you have any other fetishes besides scat?
No.

Is there anything that you haven't done sexually that you would like to do?
Maybe to do it with a trans-sexual (I have never met one).

Which is your favourite type of shit - firm, soft, diarrhoea etc?
It is between firm and soft.

You have played with vomit in your films.
How did you discover your vomit fetish?
Did it come after you discovered scat?
My first time I tried vomit is in the movie with Alexia ("Pregnant shit hypnosis").
Now sometimes I do vomit, but I don`t eat it.

Do you ever get tired or bored by scat-sex? Or does it ever turn you off?
No, I think I will do it so long as I have sexual feelings.

How do you feel about sex without scat?
Apart from scat, what turns you on the most sexually?
I also like sex without scat. But piss and scat gives me the biggest kick.
I like the smell of (most) shit and the taste.

Do you prefer men or women? Or both(!)?
I like men and women. But you can find more men who like to do this kind of sex.

Are you more dominant or submissive?
I can be submissive. But I like it most mutual.

Have you ever worked with trans-sexuals? Do they turn you on?
See above.

Have you travelled a lot? Which is your favourite country you have been to?
Where would you like to go?
Sometimes I`m travelling around.
France is my favourite, because of the good food.
But London, Amsterdam and Vienna are also very nice towns.

What are you interests outside scat?
Art, music, food, cinema, books, travelling etc?
I love my garden and my dog. I also like books and to knit pullovers.
On the weekend I like to meet friends in the pub and have fun.

That's all. Thank you very much!!
I also say thank you!
Please excuse me, when something is written not in perfect English.
I`m a German woman.
Videos with Ingrid