HoneyBee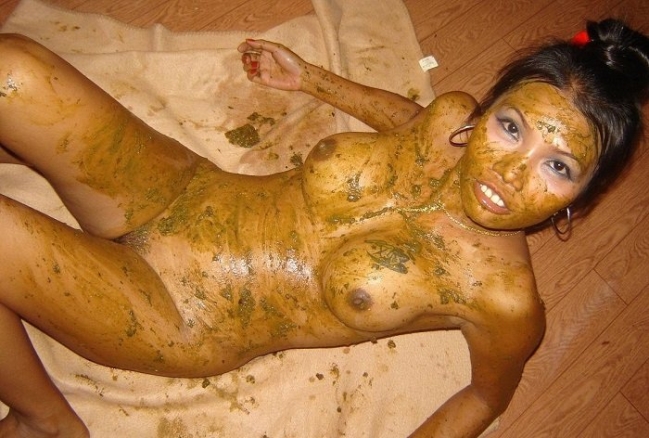 Interview
This interview was originally published on a defunct website scalled ScatOasis.
Hi Honey,
Thanks for to be here, let's go!
How did you discover you liked scat-play?
I take show with my boyfriend and i wash his ass and put my fingers inside and he told me stop otherwise he open and shit, i say do it then and he sit big and i like it
And how did you get into scat porn?
i do it because it excite me to see my photo on web site
Did you always like anal sex or did that develop at the same time as your scat fetish?
i always do before as it make me cum very much
Has your attraction to scat changed as you went from private to public?

no it's the same i love men and women to shit on me
You have a partner who you enjoy scat-sex with?
If yes, how important is scat play in your relationship?
very important , yes i have partner we like and do very often
Do any of your real friends or family know about your scat fetish or do you have a hidden scat life known only to scat fans around the world?
no i hide from them
Do you have another career outside making scat movies?
yes i am hairdresser
Have you ever been recognised in public as toilet slut?
never
Have you ever made any non-scat porn films?
yes i do a few films like bukkake and gang bang
How often do you film your movies?
not so often
Are you friends with any other scat stars or do you meet them socially?

yes i have some friends in holland and germany, we talk alot and some in japan i have met
Do you ever chat with other scat stars and exchange information or gossip?
yes i love to chat with my japanese friends in scat
Who is your favourite scat star that you have worked with,
or you haven't worked with, but would really like to?
i like to work with
Mook
, also i like to work with
Pretty Lisa
and i love
Isabelle
You have amateurs in your movies. How do you find them?
yes i do , and i meet them sometimes in swingers club or in bar , or disco
Are you going to continue making scat movies?
very much i love it
Do you have private meetings with fans?
i have met some fans who have paid me for shit sessions with them man and women
And do you give and receive?
yes i do
What turns you on most about scat play?
Is it the humiliation, the sluttishness, the dirtyness, the taboo nature of the act, etc?
i get turned on by the smell and me get slutty and real dirty
Is there any one activity in particular during shit-play that is always guaranteed to
get you off?
yes when a guy shits in my mouth hot from his arse
Do you swallow?
i play but i never eat it
Have you ever had any negative health effects from scat-play?

never
Do you have any tips or techniques for avoiding illness from scat?
i don't eat it
Do you have any personal rituals or preparation that you use before scat-play to prevent illness or to make scat-play more enjoyable?
no as never eat you eat it can get sick
Do you arrange your own scenarios for your films?
yes i do
Would you enjoy producing scat films for others?
i will love to do it
How do you clean up after playing with shit?

shower everywhere in bathroom and use plastic cloth in bedroom
Do you have any tips to get rid of the smell from your skin?
well easy use nice soap and shampoo,
but i like to still have smell on my fingers as my boyfriend likes to smell them
How many times per week do you have scat-sex?
a lot! some time 5 or 6 i love to fuck with shit all over me and sometimes i sleep in it
What's the most kinky experience you've ever had with scat-sex?
well that's a hard question,. one time i did a scat gangbang with 5 men , they all squat on my face and shit on me a lot untill i was covered in it then they pee pee on me one by one and wanked in my face, i really loved it,.. another time i ask man to take me to public toilet and he shit on me and i licked his arse clean with my tongue but i was in big mess and stink very bad
Do you have any other fetishes besides scat?
yes i love mens cum, i love to taste it and swallow lots , i also like to put my fingers in mans ass or womens and have smell on my fingers all day
Is there anything that you haven't done sexually (scat and non-scat)
that you would like to do?
yes i want to suck on dog cock and take cum inside my mouth or maybe horse as well
Which is your favourite type of shit - firm, soft, diarrhoea etc?
soft like diarrhoea
Have you ever played with vomit in your films or in real life?
no i don't like it
How do you feel about sex without scat?
yes i love without too
Apart from scat, what turns you on the most sexually?
licking a mans dirty ass , when he not wash it the smell and taste drives me crazy
Do you prefer men or women? Or both?
i like both , but like scent from man better
Are you more dominant or submissive?
i'm very submissive as i am toilet slave for some people
Have you ever worked with trans-sexuals?
yes my friend Heaven, she is a lady-boy
S -
Do they turn you on?
yes very much
What are you interests outside scat? Art, food, cinema, books, travelling etc?
yes i like to watch american movies, and read many book love story and i like go fetish club in london
Make yourself a question - and give the answer, or just explain one fantasy ...
i want to meet man
as i like to have many men shit on me and be dirty girl for them with photo taken, i wont him to find many friend and take me in open field or beach and make me his toilet and then take me to disco so i can put my fingers up many guys ass and bring smell back to him
That's all. Thank you very much!!
Videos with HoneyBee